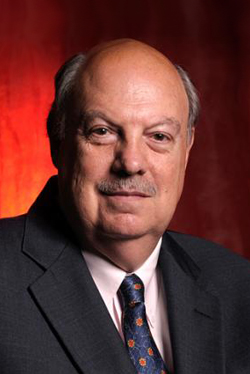 Dick Simpson is a professor of political science and former Chicago alderman. In his first campaign in 1971, Simpson surprised political observers and won election as alderman for Chicago's 44th Ward. He served for two terms before voluntarily retiring in 1979.
As alderman, Simpson established one of the first ward service offices in the city. He created a Community Zoning Board and the 44th Ward Assembly to guide his vote. He also founded the Independent Precinct Organization which later merged into IVI-IPO.
In City Council he introduced and voted for reform legislation and occasionally persuaded old-line aldermen to support his proposals. Among his successes were the passage of ordinances to eliminate mortgage redlining by banks and to end salary discrimination in the city budget for women holding the same jobs as men, passage of budget amendments to provide money for daycare, and a resolution supporting the Equal Rights Amendment.
Simpson has taught at the University of Illinois at Chicago for 50 years. He has written and co-authored numerous books, including Winning Elections in the 21st Century (2016) with Betty O'Shaughnessy; Corrupt Illinois (2015) with Thomas J. Gradel; Twenty-First Century Chicago (2015) with Constance Nixon and Melissa Mouritsen; Teaching Civic Engagement (2013) with Alison McCartney and Elizabeth Bennion; The Struggle for Power and Influence in Cities and States (2011) with Betty O'Shaughnessy and James D. Nowlan; and Rogues, Rebels and Rubber Stamps, a history and critical analysis of the Chicago City Council (2001).
His memoir, The Good Fight: Life Lessons from a Chicago Progressive, will be officially released on January 1, 2018.