Business books can put you to sleep (remember the 4 P's of Marketing 101?) or they can change your life. We vote for the latter.
How to Sell a Business for What It's Really Worth
There are a lot of us Baby Boomers trying to figure out what to do with the rest of our lives. Whether we own a business, or wish we did, some plain talking (read jargon-free) advice to help keep the money flowing into our 401k will do us good.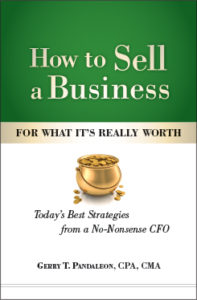 If you're feeling the pull of your next adventure, this book is for you. Learn how to get the most cash for the blood, sweat, and tears you've invested in your business.
Discover the quickest places to gain equity
Learn from other sellers' mistakes and avoid stress
Steer clear of pitfalls that make buyers walk away
Recognize red flags and deal breakers
Make a graceful, dignified exit
This 90-minute read is packed with friendly, actionable advice.
Gerry Pandaleon, CPA, CMA, brings three decades of experience as a CPA, controller, and CFO to this user-friendly guide to selling your business. Readers can trust Gerry's from-the-trenches advice on how to prepare their businesses for sale. The same clear, no-nonsense communication style that leads to success for her clients will help you avoid costly mistakes and walk away from the settlement table a happy person.
Loaded with bonus material, this book links to its own website: www.forwhatitsreallyworth.com.
Available on Amazon.com in paperback,
Kindle,
Audible
audio edition versions.
Think your clients and friends would benefit from this book? Contact us for considerable savings on bulk purchases.