The Boom!!…Killers Trilogy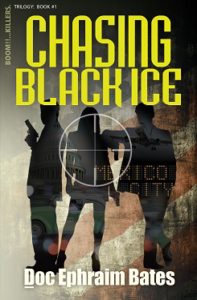 Root for the killers.
When two government assassins attend a political fundraiser and botch a major sting operation, they are thrust headlong into an assignment that is way above their pay grade.
In pursuit of the ruthless thief Black Ice, Kinley and Harper are sent to Mexico City to team up with orphaned DEA Agent Laurie Chase. The deeper they get into the operation, the more the trio realizes that they are on their own.
As the body count rises, they must choose between their own principles and the country they serve.
A true page-turner, the witty dialogue in this comedic thriller will keep you guessing until the penultimate page.
---
New Year. New Adventure.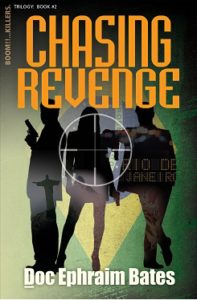 Eighteen months after the bloody debacle in Mexico City, Kinley Deveraux, Harper Rowe, and Laurie Chase are separated and on the run.
Heeding a New Year's Eve plea for help, Harper and Kinley join Laurie Chase in Rio, where she is scheming revenge on Tito del Fuento, the drug lord that completely wiped out her former DEA team.
Will best friends Kinley and Harper, lovable weapons dealer Big James Gray, and a quartet of former Delta Force ops called Dragon's Men be enough to vanquish one of the world's most powerful drug magnates?
Doc Ephraim Bates' sequel to Chasing Black Ice, Chasing Revenge once again delivers nonstop action and sparkling dialogue.
---
Can you ever go home again?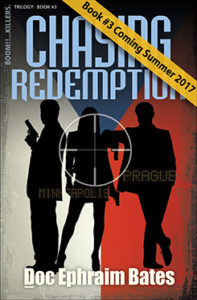 In the final installment of the Boom!!…Killers trilogy, Chasing Redemption, Kinley Devereaux, Harper Rowe, and Laurie Chase get the chance to do just that.
When someone from Kinley and Harper's past contacts them with an opportunity to clear their names, Kin, Harp, and Laurs plan a return to the U.S. in hopes of making good on their one shot at redemption.
However, before the trio can embark on their last adventure, Laurie has unfinished business to tend to in Rio, while Kinley and Harper travel to Czechia to help a friend perform a daring and dangerous rescue of a mother and daughter from a ring of ruthless and powerful criminals.
Don't miss the fulfilling conclusion to the trilogy that Books On Fire Tours calls "…gripping…completely different," and "highly enjoyable."
COMING SUMMER 2017